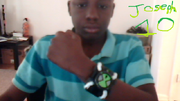 Joseph 10
is a show about a 10 year old called Joseph Koffi who returns with the Radioactive Mosquito Bite and now has a alienistic watch called The Omnitrix. Joseph`s best friend, Mack gets a alienistic watch similar to the
Omnitrix
called the
Trilocker
. Joseph is on Summer Vacation in a RV road trip with
Mack
,
Susan Corter
,
Marcel
,
Clark
, Eva, Peter Petrelli, Peter Parker, & Claire Bennet. The theme song is,
The Time for Going Alien!
It`s pilot episode is,
Unleashed!
Joseph officially becomes "Joseph 10" by wearing the costume in the episode,
Shugglepuff
! The first Joseph 10 movie is,
Joseph 10: The Unsafe
. The eleventh/brawling movie when Joseph has the Brawlermatrix is the movie,
Joseph 10: Supergan Brawlers
.